Sample Problems from Chapter 10

Chapter 10: Pi and Square Roots
---
1. Kohler follows Archimedes
Kohler, a 5th grader at the time, started with a 12-dot circle. He drew the circle, a diameter, and inscribed an equilateral triangle in it. He measured the diameter of the circle and perimeter of the triangle in mm. He then found the ratio of p/d. You try it.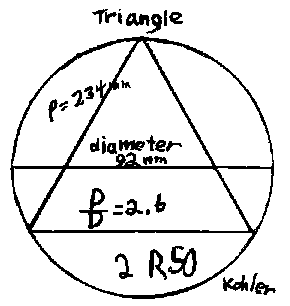 Notice, Kohler got 2 R50 and we had a big dicussion about leaving the answer as a fraction and decimal, finally. He then did the same thing for a regular hexagon, and regular dodecagon. You try it. What if you keep going, what's happens to this ratio p/d?
Write a program to get the ratios of the perimeter of polygons of 3x2n sides to the diameter (d) of the circle.
2. The Gregory-Leibnitz series
3. From Wells..
4. Iterating the sqrt of a number. One day a 7th grader, in a moment of just playing with a calculator, put in a number, then hit the square root key again and again. Try that. Graph the numbers you get vs. the number of iterations. What do you notice? Try a different number. Write a program to do this.
5. Finding the square root of 2 by squaring numbers on a calculator.
6. Finding

by 'iteration of the average' method.
What does

mean? We're looking for a number such that when you multiply it by itself you get 40 or

. Suppose we guess 5. 40/5 = 8. 8x5=40, but the two factors have to be the same. 8 is too big and 5 is too small. If we find their average, we'll be closer to the

. So we'll do this

= 6.5. Then we'll take 6.5 and find the average of this and 40/6.5, like this

. Notice we have an iteration problem now where G is the guess number

-> G! Here's a number line picture of these first 2 iterations: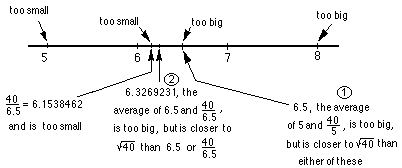 So we get an infinite sequence 5, 6.5, 6.326923077, 6.324555763, 6.324555320, ... After only 4 iterations we get the

correct to 9 decimal places. This method gives a rapidly converging sequence to find the square root of a number.
Write a program to do this iteration.
7. Using the binomial expansion to find the square root of 2.
---
Ways young people have solved these kinds of problems
To order Don's materials
To choose sample problems from other chapters
Mathman home